Dave Nelson - Owner / Driver of Dorris Dormouse
I first came to spectate as a young boy back in 1993. I stood a few feet away from a fuel car in the pits as it fired up and the exhaust pressure blew me off my feet and from that moment I was hooked. I started taking photo's and building my own website Drag Torque shortly afterwards, leading to my career in web development. I soon came of age and figured that if I learned to drive I could actually race myself, so this became my goal back in 2001 while at University. I soon frequented many run wat ya brungs in my 998cc Mini, developing the car from standard (23 seconds @ 60mph) to a best of an 18.8 second quarter @ 71MPH. While visiting Avon Park with my dad crewing for Andy Wilcox I saw a sign on a trailer "Slingshot dragster for sale" and knew that was where my future lay. We brought the car and campaigned it for one season as The Crooked Schemer but unfortunately the chassis was not up to spec so we decided to build Dorris. While building Dorris I kept my hand in racing a Porsche 924 and a Jaguar XJS (Yes, the one that went sideways at santa pod). We debuted Dorris Dormouse MK1 in 2008, and had a lot of fun, running a best of 8.443@157.55mph. The yearning to go faster lead to a the current Dorris Dormouse (MK2) being built in 2013.
John Nelson - Crew Chief / Builder
For years I wanted to see dragracing but did not know when they raced. A chance radio advert gave me the date for the finals. As the saying goes the rest was history.
My interest in cars goes back to my teens. At the age of 13 I started banger racing at a small track in a farmers field near the village of Dadlington leic's. Ok this is not recognised as being a very technical motorsport but you can learn a lot about cars and how they do or don't work and using simple "fixes" can make even the most battered car survive a brutal sport. You also learn how to drive in the most difficult conditions you can think of.
Feb 2002 I purchased the Humber Hawk bodyshell plus a few other parts with the plan to build and race myself. The plan stopped there when at an event at avon park Dave spotted an advert for a project car to build "slingshot" to be powered by a rover v8 . Being the father of a very exited young man with "GO FAST" idea's in his head his car became the priority. Unfortunately the chassis for the "crooked sceamer" did not make the grade on chassis tech . My Hawk went further on the backburner as the new slingshot project began with me saying to the scrutineers "I will make my own chassis then" . FAMOUS LAST WORDS huh!........ But to be fair the scrutineers said "for a slingshot you need to speak to Roy Wilding" . Shortly after this conversation "Roy" made a personal visit to our pit and became our greatest contributer with drawings for the chassis , Bending tubes for us and "being at the end of a phone" with advice etc . Thus began the "birth"of Dorris Dormouse.
Cheryl Nelson - Assistant Crew Chief Extraordinare!
OK, I dont know what Cheryl actually does most of the time, except drive off in the tow vehicle without me being attached! Nah, she's my sis and she works hard to help the team too, especially good with helping introduce children to Dorris! She has now moved to New York so I do now tend to get towed down to the start line in one go, but is still a member of the team, helping out however she can from the other side of the pond.
Uncle Paul!
Paul came along to watch us race a couple of times, but became a member of the team at the Open Sport Nationals in 2010 and now seems to be hooked! He enjoys several duties with the team including running on the sticky road as he calls it along with helping us get Dorris prepared between rounds. Another real asset to our team.
Andrew Nelson
Drew helps us out where he can at the race track or at events.
Steve Rowe - Team Bitch
Steve is a good friend, and hard working lad who has helped with the build of Dorris Dormouse and been our main crew man for several years.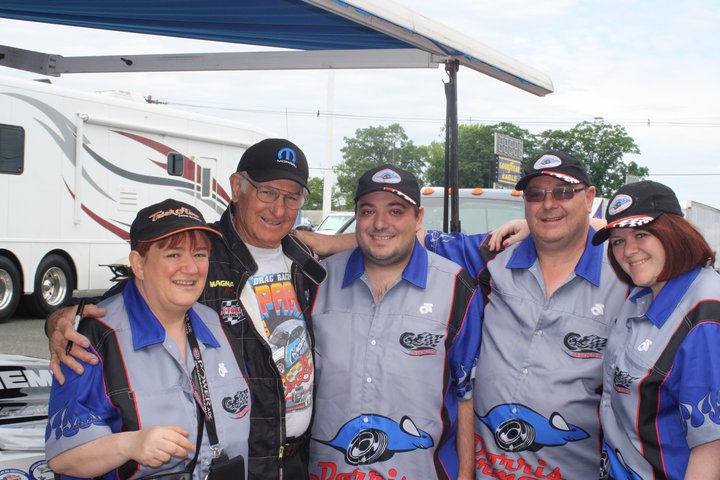 Members of Team JDN-Racing when we met Don Garlits in New Jersey